The paid course offers 69 lessons (approximately two hours) taught by Barbara Annis. This version provides a deeper understanding of all 7 pitfalls for women in business, and comprehensive tools for overcoming these pitfalls.
In any challenging career there are bound to be pitfalls. Those moments we stumble, unsuspecting, into a difficult situation that no one warned us about. Using the results of our survey of 2000 women senior executives, we expose the 7 most common pitfalls experienced by women, and uncover useful strategies to use for navigating forward in your career.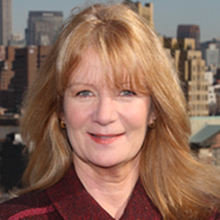 Barbara Annis, Founder and CEO of Barbara Annis & Associates, Inc. (BAA) is a world-renowned expert on Gender Intelligence, Inclusive Leadership, and Cultural Intelligence, advocating the value and practice of Gender Intelligence and inclusiveness in over 75 Fortune 500 companies, ten governments, and numerous educational institutions worldwide. The insights and achievements developed by BAA have pioneered a transformational shift in cultural attitudes across the globe on the importance of gender unity to organizational success. 
2

Introduction to Bold Requests

Introduction to Bold Requests

Exploring the Pitfall: Nurture

Exploring the Pitfall: Nurture

Exploring the Pitfall: Nature

Exploring the Pitfall: Nature

Exploring the Pitfall: Real Stories, Real Challenges

Exploring the Pitfall: Real Stories, Real Challenges

Exploring the Pitfall: Around the World

Exploring the Pitfall: Around the World

Overcoming the Pitfall: Invitation

Overcoming the Pitfall: Project YOU!

Overcoming the Pitfall: Project YOU!

Overcoming the Pitfall: Success Stories 1

Overcoming the Pitfall: Success Stories 2

Overcoming the Pitfall: Success Stories 3

Overcoming the Pitfall: Success Stories

Conclusion: From Understanding to Action

3

Introduction to Self Promotion

Exploring the Pitfall: Nurture 1

Exploring the Pitfall: Nurture 1

Exploring the Pitfall: Nature 2

Exploring the Pitfall: Nature 2

Exploring the Pitfall: Real Stories, Real Challenges

Exploring the Pitfall: Real Stories, Real Challenges

Exploring the Pitfall: Around the World

Overcoming the Pitfall: Invitation

Overcoming the Pitfall: Project YOU!

Overcoming the Pitfall: Project YOU!

Overcoming the Pitfall: Success Stories

Overcoming the Pitfall: Success Stories

Conclusion: From Understanding to Action

4

Exploring the Pitfall: Nurture

Exploring the Pitfall: Nurture

Exploring the Pitfall: Nature

Exploring the Pitfall: Nature

Exploring the Pitfall: Real Stories, Real Challenges

Exploring the Pitfall: Real Stories, Real Challenges

Exploring the Pitfall: Around the World

Exploring the Pitfall: Around the World

Overcoming the Pitfall: Invitation

Overcoming the Pitfall: Project YOU!

Overcoming the Pitfall: Project YOU!

Overcoming the Pitfall: Success Stories

Overcoming the Pitfall: Success Stories

Conclusion: From Understanding to Action

5

Introduction to the Loyalty Trap

Exploring the Pitfall: Nurture

Exploring the Pitfall: Nurture

Exploring the Pitfall: Nature 1

Exploring the Pitfall: Nature 2

Exploring the Pitfall: Nature

Exploring the Pitfall: Real Stories, Real Challenges

Exploring the Pitfall: Real Stories, Real Challenges

Exploring the Pitfall: Around the World

Exploring the Pitfall: Around the World

Overcoming the Pitfall: Invitation

Overcoming the Pitfall: Project YOU!

Overcoming the Pitfall: Project YOU!

Overcoming the Pitfall: Success Stories

Overcoming the Pitfall: Success Stories

Conclusion: From Understanding to Action

6

Introduction: Uncovering the PItfall

Exploring the Pitfall: Nurture

Exploring the Pitfall: Nurture

Exploring the Pitfall: Real Stories, Real Challenges

Exploring the Pitfall: Around the World

Overcoming the Pitfall: Invitation

Overcoming the Pitfall: Project YOU!

Overcoming the Pitfall: Success Stories

Conclusion: From Understanding to Action

Exploring the Pitfall: Real Stories, Real Challenges

Overcoming the Pitfall: Invitation

Overcoming the Pitfall: Project YOU!

Overcoming the Pitfall: Success Stories

7

Exploring the Pitfall: Nurture 01

Exploring the Pitfall: Nurture 02

Exploring the Pitfall: Nurture

Exploring the Pitfall: Nature

Exploring the Pitfall: Nature

Exploring the Pitfall: Real Stories, Real Challenges

Exploring the Pitfall: Real Stories, Real Challenges

Exploring the Pitfall: Around the World

Exploring the Pitfall: Around the World

Overcoming the Pitfall: Invitation

Overcoming the Pitfall: Project YOU!

Overcoming the Pitfall: Project YOU!

Overcoming the Pitfall: Success Stories

Overcoming the Pitfall: Success Stories

Conclusion: From Understanding to Action

8

Introduction: Uncovering the PItfall

Exploring the Pitfall: Nurture

Exploring the Pitfall: Nurture

Exploring the Pitfall: Nature

Exploring the Pitfall: Nature

Exploring the Pitfall: Real Stories, Real Challenges

Exploring the Pitfall: Real Stories, Real Challenges

Exploring the Pitfall: Around the World

Overcoming the Pitfall: Invitation

Overcoming the Pitfall: Project YOU!

Overcoming the Pitfall: Project YOU!

Overcoming the Pitfall: Success Stories

Overcoming the Pitfall: Success Stories

Conclusion: From Understanding to Action